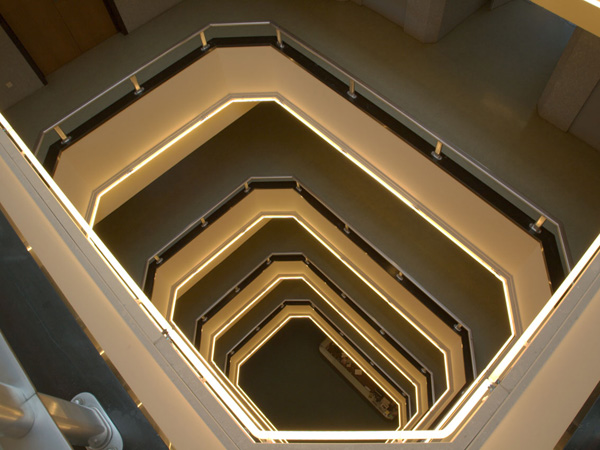 Flagey stairwell - visible lines of light.
Lumco lamps type LT8-B8 colour shade 827 (2700K) in straight and curved form.
The building of the former National Institute for Radio broadcasting (INR) underwent complete renovation a few years ago. Thanks to the architects, this famous boat-shaped building regained its long lost glory. For the lighting of the public zones, it was stipulated that the characteristics of the1930s were to be respected, even with the use of the latest technologies. Previously, the building was lit with tubular incandescent lamps (philinea). Those lamps radiated a very warm light but had heavy consumption and a particularly short lifespan. Thanks to the use of Lumco lamps in the form of straight, bent or curved continuous lines of light, is was possible to retain the original character. The lifespan of the lamps was multiplied by 20 and the total consumption was divided by 3. All lamps are visibly mounted and also have very warm colour shades. The electronic components are hidden on a narrow continuous profile that was made-to-measure. The whole of the installation is controlled by a Dali system that can recreate any atmosphere. This is a reference with which we are proud to be associated!
Other projects with this application