W6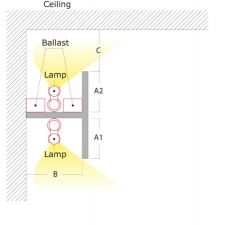 SET-UP WITH FALSE WALL OR PARTITION, UP AND DOWNLIGHTING, ASSEMBLY WITHOUT REFLECTOR PLATE
2 rows of lamps type LT5-B5
A soft light streams out above and beneath, also lighting the ceiling indirectly. The 2 rows of lamps can operate in 2 separate circuits (uplight only or downlight only) or both can also be on at the same time. Plates are not
required, but all fi ttings must be placed in zone A2 so that they are not visible. The false wall should not be
placed too low to avoid being seen into from above.
| | | |
| --- | --- | --- |
|   | Minimum | Optimal |
| A1 | 80 | 130 |
| A2 | 35 | 50 |
| B | 70 | 100 |
| C | 100 | 200 |